Dear Members and Patrons,
Our Proud Sponsor, MANI PHYSIOTHERAPY at Salisbury provides expert care with Physiotherapy, exercise Physiology and Gym programs.
To know more call Mani Physiotherapy on 0405333773.
ATA Management Committee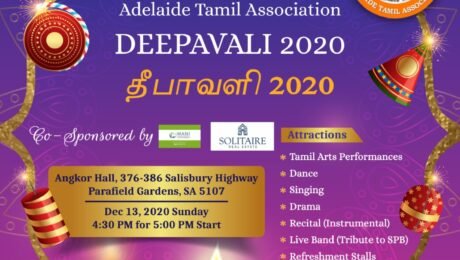 Dear Members / Patrons / Community,
We welcome you to the Adelaide Tamil association – Deepavali 2020.
This will be a fun filled event with dance, music, drama. kid activities, stalls, Dinner, snacks and fireworks.
This event is being organized under COVID-19 guidelines.Limited tickets are only available.
Looking forward to seeing you all…Happy Deepavali
ATA – Management Committee and volunteers.
On Saturday 13 December 2020 at 5:00 PM
LOCATION
Angkor Hall
376 – 386 Salisbury Highway, Parafield Gardens, SA 5107
TICKETS
Event Tickets can be booked here