செவ்வாய்க்கிழமை, 07 செப்டம்பர் 2021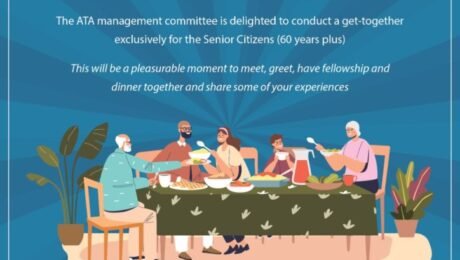 Dear ATA Members,
The ATA management committee is pleased to conduct a get together exclusively for the Senior Citizens (60 years plus) who reside and have visited their families in SA.
More Details are in the Flyer.
Please RSVP by filling the google form below before 25th of September 2021 for catering purposes.

https://docs.google.com/forms/d/e/1FAIpQLSfAtB5ofPjyvWO2rkAHh-Ul6c8knyksyJo5x_MGxPyEW4zCOA/viewform?usp=sf_link

PS : ATA members, If you have visitors in your family and if you know any other Elders in our community visiting, please encourage them to attend this get together so they can feel at home.
ATA Management Committee
செவ்வாய்க்கிழமை, 07 செப்டம்பர் 2021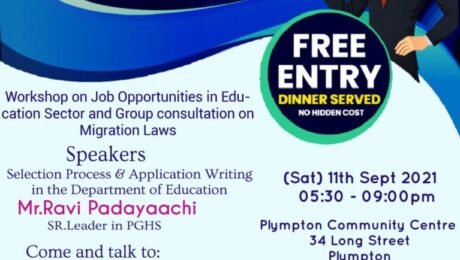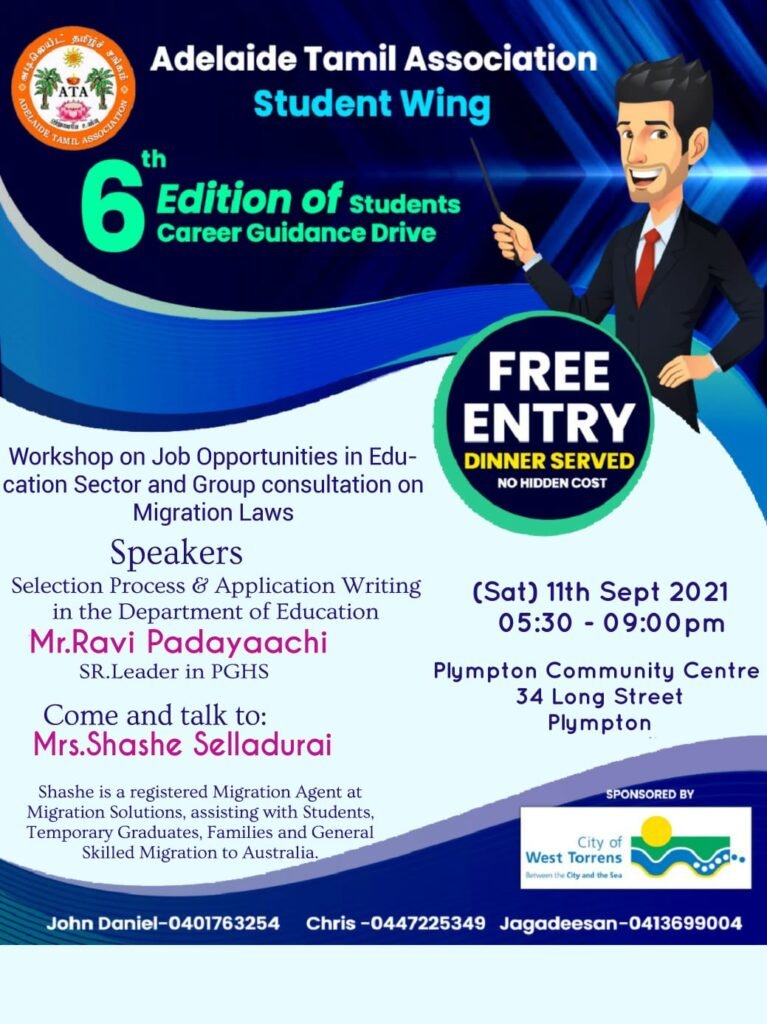 Hello everyone,
Greetings.
It is with much pleasure we are announcing the Sixth edition of the
CAREER GUIDANCE DRIVE
For Local and International Students.
This session would focus on Job Opportunities in Education Sector and Group consultation on Migrations Rules in special reference to International Students.
Please feel free to drop in and make use of this opportunity.
Kindly register your attendance in the following link http://bit.ly/studentwing before 09/09/21 for catering purpose.
This event is sponsored by City of West Torrens.
Place: Plympton Community Centre,
34, Long Street, Plympton, SA 5038.
Date: Saturday, 11th September 2021
Time: 5.30 PM to 09.00 PM
Note:
Please bring your English Proficiency Test report-PTE, IELTS, TOEFL etc,…
Your Resume with your educational qualifications, work experience and any additional qualification including NAATI, etc..
Laptop/Ipad.
ATA Management Committee
திங்கட்கிழமை, 09 நவம்பர் 2020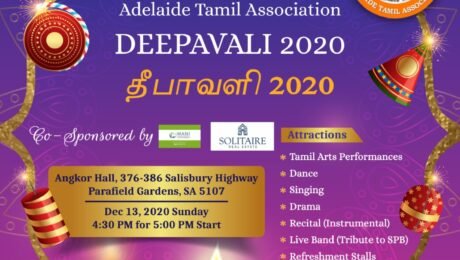 Dear Members / Patrons / Community,
We welcome you to the Adelaide Tamil association – Deepavali 2020.
This will be a fun filled event with dance, music, drama. kid activities, stalls, Dinner, snacks and fireworks.
This event is being organized under COVID-19 guidelines.Limited tickets are only available.
Looking forward to seeing you all…Happy Deepavali
ATA – Management Committee and volunteers.
On Saturday 13 December 2020 at 5:00 PM
LOCATION
Angkor Hall
376 – 386 Salisbury Highway, Parafield Gardens, SA 5107
TICKETS
Buy Your tickets here